AVE Sizing & Model selection

AVE Sizing and Model Selection
Automatic Voltage Equalizer size depends on system voltage and transformer kVA.
To properly size an Automatic Voltage Equalizer, we need to answer a couple of questions:
(Our engineering department assists with correct sizing and model selection)
What is the system voltage?
kVA rating of the supply Transformer? If you know the kVA rating, use the table to find the correct model.
If you don't know the kVA rating, the circuit breaker, fed by the transformer, can help. Example: 2000A main CB (use Trip rating).      Formula: Transformer kVA is approximately equal to (Volts x CB Amp rating x 1.732) / 1000.
Available space for installation.
Distance from the transformer to the preferred installation location. Ideally, AVE should be installed as close as possible to the transformer's secondary side.
Network and communication system
Wall or floor mounting
Example 1, 250V Main Circuit Breaker, rated 2000A,
((250X2000) X 1.732) / 1000 = 866kVA. Select model: AVE250(U)G3000
Example 2, for 480V Main Circuit Breaker, rated 4000A,
((480X4000) X 1.732) / 1000 = 3325kVA. Select model: AVE480(U)G6000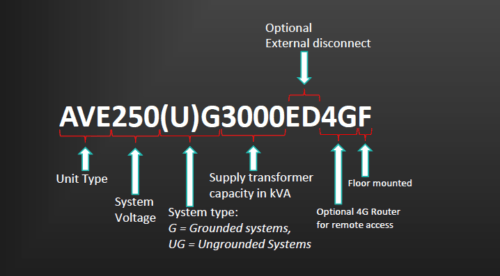 Model options
Industrial WAN Router (Standard on  AVE – AVE Fixed – AVE High Voltage)
F-R100 industrial WAN Router is a state-of-the-art router which maximizes uptime by seamlessly switching between the multiple Internet interfaces. Flexible wifi, 802.11 b/g/n, configurable wifi as WAN or access point, wifi Security (WEP / WPA / WPA2 Mixed Mode), and multiple SSID. High-powered industrial CPU and embedded realtime operating system. DIN-rail mounting, wide operating temperature range, and IP30 metal housing. 
Industrial 4G Router
EM Energy Solutions voltage balancing products comes with state-of-the-art 4G cellular router designed for applications requiring faultless connectivity. It provides a secure, reliable, realtime, and remote connectivity for our units. Software-defined, multi-carrier networking, dual SIM models, 802.11n, and global 2.5G/3G/HSPA+/LTE options make it easy to get connected from anywhere in the world.
Power Quality Analyzer (Standard on  AVE – AVE Fixed – AVE High Voltage)
EM Energy Solutions products come with an advanced network analyzer either integrated or as a standalone solution. The PQA includes comprehensive energy management and power monitoring program. The system has trigger point waveform recording, which enables the operator to go back and lock at any trigger point to understand the sequence of events in the power system fully. The waveform capture function allows users to record and view 10 cycles before and after the trigger point. The PQA is easy to install and has a local digital display, web interface, and cloud solution. Connect 3-phase voltage supply and flexible Rogowski coils on main bus bars. Rogowski coils come in various current ratings and sizes.
The PQA uses highly flexible Rogowski coils that have 0.5% accuracy for system current reading and is a flexible solution when space is limited, or the conductor has an irregular shape.
The Rogowski coils have a current range from 5-50 000 Amps, and the broad frequency range makes it an excellent choice in terms of harmonics and power quality readings. It comes in four standard length selections: 16, 24, 36, and 47 inches. See the table below for dimensions and sizing.
Floor mounting for cabinets
Base section for floor mounted EM Energy Solutions units. High-load capacity base corner pieces with molded self-positioning to the baying enclosure system may be used with or without trim panels depending on the application.
External disconnect switch
EM Energy Solutions Units have an option to be equipped with an external disconnect switch.
Your content goes here. Edit or remove this text inline or in the module Content settings. You can also style every aspect of this content in the module Design settings and even apply custom CSS to this text in the module Advanced settings.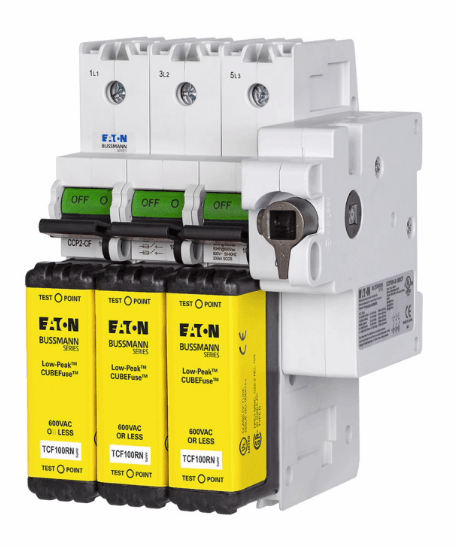 Distribution system explanation: (If you are in doubt on what type of system you have one our engineers assists you)
International standard IEC 60364 distinguishes three families of earthing arrangements, using the two-letter codes TN, TT, and IT.
The first letter indicates the connection between the earth and the power-supply equipment (generator or transformer):
"T" — Direct connection of a point with earth (French: terre)
"I" — No connection to earth (French: isolé), except via a very high impedance.
The second letter indicates the connection between earth or network and the supplied electrical device:
"T" — Earth connection is by a local direct connection to earth (French: terre), usually via a ground rod.
"N" — the neutral connection is supplied by the electricity supply network (French: neutre), either separately to the protective earth (PE) conductor or combined with the protective earth (PEN) conductor.
Grounded systems
In a grounded system, the generator or transformer windings are earth connected, usually the neutral point in a three-phase system. The body of the electrical device is earth connected via this earth connection at the transformer. This arrangement is a current standard for residential and industrial electric systems, particularly in Europe.