EM Energy Solutions Power Quality Measurment Services

Power Quality measurement services
EM Energy Solutions' power quality measurement services provide you an opportunity to assess the current status of various power quality parameters in your facilities and benchmark them against applicable power quality standards. The findings of the power quality measurements and recommendations for possible solutions, if so required, are presented in a post-measurement power quality report.
Power quality measurement services are delivered to our clients outside of Norway, typically by our global expert network of distribution partners. Power quality measurement services are also available remotely with our portable power quality analyzer. The analyzer has a built-in industrial 4G/Wifi router, making it able for EMES support personnel to connect to it from anywhere in the world. Regarding today's Coronavirus situation, a detailed power quality analysis is possible without traveling across any border. EMES ships the portable PQA to you, and then guide operational personnel through the process of hooking up the meter to the distribution network. We can then access the meter remotely and create a detailed report. As a specialized company in power quality, EM Energy Solutions gives you unmatched expertise from problem definition to solution identification and implementation, together with our global distribution network.
EM Energy solutions portable power quality meter makes power quality analysis easier than ever before. 

POWER QUALITY MEASUREMENTS
Measurements are the basis for troubleshooting, verification, or sustainable optimization of power quality. We check your power supply network for voltage fluctuations, reactive power, harmonic oscillations, and other network disturbances, and by doing so, uncover potential ways to optimize costs and detect potential disturbance factors.
FLICKER, VOLTAGE DIPS, PRODUCTION STOPS
Disturbances of the electrical power supply are not always clearly visible. Sometimes it is the result of increased energy consumption or the premature wear of equipment. The resulting costs and investments often burden the operation of a plant considerably.
Particularly unbalanced loads and power electronics have risen rapidly in the last years due to technical progress and automation. Sensitive control electronics react sensitively to harmonics and other disturbing factors in the power supply.
OVERVIEW OF MEASUREMENT VALUES
Voltage L-N / L-PEN / L-L (depending on grid type)

Current of the three phases

Current of the Neutral (including unbalance and zero sequence harmonics)

Active, Reactive and Apparent Power

Power Factor and Displacement Power Factor

Frequency and Voltage Unbalance

Harmonic Current and Voltage up to 50th order

Interharmonic Current and Voltage up to 50th order and above (9 or 20 kHz, depending on equipment)

Voltage Transients up to 1 MHz

Short- and Long Term Flicker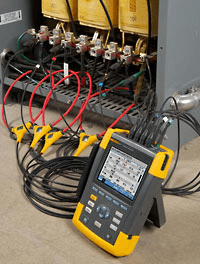 Objectives of power quality measurements
---
Power quality measurements are typically carried out to fulfill one or more of the following requirements:
To benchmark against contractual obligations or grid code criteria and power quality recommendations
Performance benchmarking of equipment or plant
To help make the predictive maintenance
Common Problems
---
Power quality measurements are typically carried out to fulfill one or more of the following requirements:
Sporadic plant disturbances, mostly in connection with the operation of other equipment
Faulty measuring, control and regulation technology (e.g. false alarms, mostly due to insufficient EMC)
Overheating and overloading of plants or plant parts (e.g. transformers)
Premature equipment failures (e.g. power supply units)
Triggering of switches and protective devices (false triggering)
Defective reactive power compensation equipment
Flickering lights (flicker
Scope of power quality measurement services
---
EM Energy Solutions' power quality measurement services consist of a variety of measurements that can be tailored according to your specific needs. These power quality measurements typically include are:
Harmonic measurements

Voltage sags, swells, and interruptions measurements
Motor start-up studies

Reactive power measurements

Flicker severity studies
Transients and spikes studies
Customer benefits
---
A power quality audit performed by an experienced company can deliver several benefits for the industrial or commercial customers which includes but are not limited to the following:
Improved insight into the plant's and/or equipment's power quality, and identification of their current and future hazards

Sufficient data to back up and make well-informed investment decisions

Correctly sizing the mitigation solution

Avoiding unexpected outages