The EMES Advanced UPS protects mission critical processes from supply interruptions and voltage sags while in advanced online mode dynamic regulates fluctuations of voltage. Covering applications from computer rooms through to large datacenters and complete industrial plant protection, EMES have the UPS or voltage conditioning technology for every need. From a few kVA to applications of many MVA and a wide range of supply voltage.
Operation modes
RTS Mode – 99 % high efficiency and 2 ms super fast switching time
Advanced double conversion online mode – high precision and dynamic voltage regulation capability.
Customer benefits
Complete protection from power outages, voltage sags, swells and voltage fluctuation in a single, cost effective and robust solution.
Excellent protection of critical processes in commercial and industrial applications, reducing downtime cost.

Reduced breakdown of electrical equipment and longer plant life.

Energy savings.

Higher electrical capacity from existing electrical network.

Quick returns on investment.
Schematic
12 inch high quality monitoring screen with advanced and comprehensive monitoring & reporting features.
Modern monitoring and reporting functions feed the user with relevant information and has the option to be integrated to other SCADA systems via smart communication features.
Highly reliable modular redundant design, that can scale with your business.
Hot-swappable modular design, easy to replace modules and other components without downtime.
Dual controllers and dual auxiliary power supply ensure continuous system operation and reliable communication.
Wide input voltage range (138 V ~486 V) allows UPS to work in harsh electrical environments and to minimize battery use.
Intelligent battery management system optimizes the charge and discharge of the battery to increase performance, safety and lifetime.
Small footprint in design, saving valuable floor space.
Optional: Complete protection mode
UPS with sophisticated power quality features
EMES UPS-CPM is a revolutionary solution that combines the benefits of various power quality systems within one single robust system. EM Energy Solutions Advanced UPS – CPM protects your processes against power interruptions, transients, voltage sags, swells and fluctuation, as well as from losses caused by low power factor and harmonic distortion. The Complete Protection Mode enable longer equipment lifetime, higher process reliability, improved power system capacity and stability, and reduced energy losses, as well as complying with most demanding power quality standards and grid codes such as IEEE 519 and EN50160.
The UPS-CPM offer a total protection against all power failures, voltage regulation, power factor correction and harmonics.
Cost of poor power quality
According to a European study made by Manson & Roman Targosz, the total cost of bad power quality in Europe alone is 150 billion euros per year. The expenses are divided according to the diagram.
The Advanced UPS-CPM can effectively address more than 90% of these issues!
SMOoTH BUSINESS PROCESSES WITH REAL TIME RESPONSE
EM Energy Solutions Advanced UPS is built on the most efficient power electronics technology, ensuring extremely fast and effective response to power outages, voltage sags and a number of other power quality disturbances. Such dynamic real time response ensures a guaranteed uptime and the highest safety standards for crucial business processes.
Total customization with modular design
Full scalability is achieved through modularity in both power electronic units as well as in selection of energy storage capacity and media. Unit capasity from 40-3000 kVA and a fully customizable energy storage which can be tailored for applications requiring power back up from seconds to hours.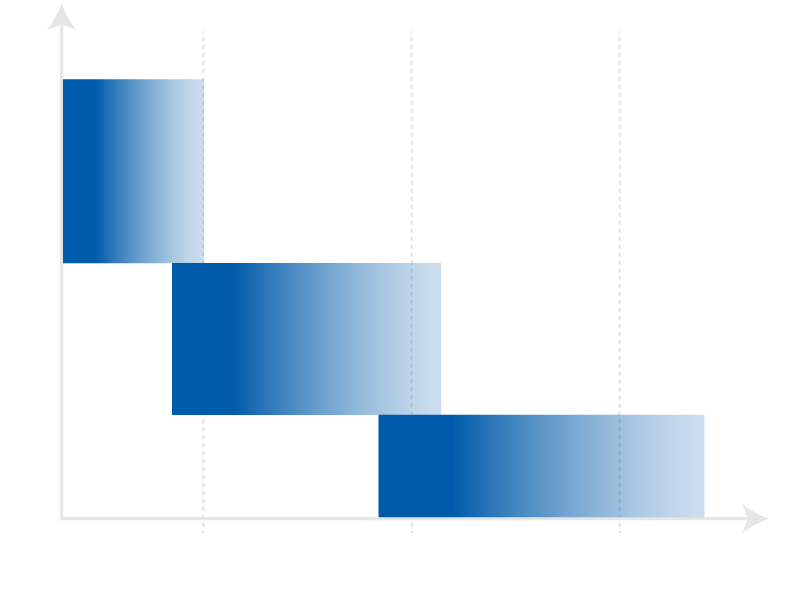 Technical Specifications
INPUT
Rated voltage
380/400/415 VAC
Voltage range
138 ~486 V (linear derating between 138 ~305 V
Current harmonic distortion
< 3 %
Power factor
> 0.99
Related frequency
40 ~ 70 Hz

OUTPUT

Output voltage of converter

380/400/415 VAC

Stabilized output voltage accuracy of converter

±1 %

Efficiency

Advanced online mode: single module efficiency > 97.5 %, cabinet efficiency > 97 %

Response time

Online mode response continuously; switching time of RTS Mode 2 ms

Overload capacity of inverter

110 % load, automatic switch to bypass after 60 min

125 % load, automatic switch to bypass after 10 min

150 % load, automatic switch to bypass after 1 min

THDv
< 1 %
BYPASS
Voltage

380/400/415 VAC

Frequency
50/60 Hz
Overload

≤ 135 %, temperature ≤ 30 °C, no limitations

≤ 125 %, temperature ≤ 40 °C, no limitations

150 % ~ 200 %, for 5 min

200 % ~ 1000 %, for 1 min

> 1000 %, for 100 ms

SYSTEM
Parallel operation

Max. 8 cabinets in parallel

Charge mode
Intelligent battery management system
Battery configuration: lead acid battery, lithium battery, super capacitors
Audible noise (1 meter)
60 ~75 dB
Protection level
IP21 (can be customized)
Cable entry
Bottom entry
Communication interface

RS485, CAN, Ethernet, WIFI (optional), 4G (optional), dry contact (optional)

Temperature

Operation ambient temperature: -10

~

40 

℃

 

, storage temperature: -40 ~ 70 

℃

 

Relative humidity

0

~

95 % without condensation

Altitude
≤1 000 m

 

(

over 1000 m, please take IEC62040-3 standard derating for reference, max 4000 m

)

Monitoring

12-inch monitoring touch screen with advanced and comprehensive monitoring & reporting features

Dimension
300 kVA cabinet size 600*830*2000 mm (W*D*H), for other capacity, battery cabinet, or customized size, contact EMES engineers
Cabinet color

Standard color is RAL7035 (can be customized)

Certification

TLC,CE(EN602040-1,EN602040-2)